School Shows and Assemblies
Everyone loves School Shows and Assemblies from the New Magic Academy. Students learn and always have a great time.
Want to really motivate students?
Want a truly educational program?
Want to keeps students engaged?
You want a school show from the New Magic Academy. Our School Shows help students with:
Self Confidence.
Bully Proofing.
Understanding and Respecting the Environment.
Getting Excited About Science.
Finding Math Engaging.
Check out our programs.
Magic is Science Magic Show  In this School Assembly show students learn the scientific method. Students explore how to make something float in mid air.
Ask a Question.
Do Back ground Research.
Develop a Theory.
Experiment and Test the Theory.
Report the Results
Tex Booker Tex is an old Cow hand. He brings a School Show that really teaches about reading and writing. In this Assembly Show students learn:
Story Parts
Book Genres
Benefits of Reading
Sentence Structure
Word Games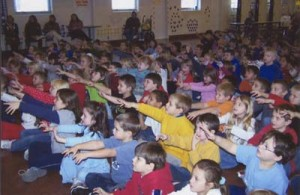 Les Trouble Secret Agent, In this School Show Les Trouble Secret Agent teaches
How making good choices
Character-building Lifeskills
How to stop bullies in their tracks.
Number man, This super hero who teaches younger students:
Patterns, shapes and topological puzzles
Odd and Even Numbers
Sorting and Estimating
Standard and Non Standard forms of measurements
Number Man super Hero teaches older students:
Area, Volume and Perimeter
Probability, Possibility and Odds
Fractions
Simple logic and Reasoning
Mental Math
Check out our Facebook Page. New Magic Academy