New Magic Academy FUNdraising
The programs are fun, family-friendly and raise a lot of money.
New Magic Academy's parent company has a goal to raise $1,000,000.
Your school, church or non-profit could be the beneficiary of this goal.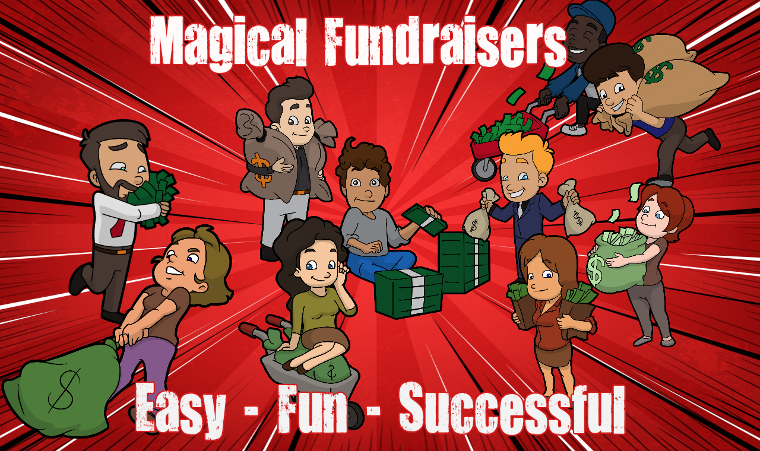 You Can Get Cash As Easy As 1…2…3
Identify your non-profits need. (Yeah, like they are hard to find.) Let Square Circle Productions know about it  
Use the turnkey FUNdraising system to spread the word you are bringing Square Circle Productions to your area. It is fun, entertaining and bolsters your status in the community. You help get the word out and we put on a fantastic show!
Cash the Check. Wait! When do you pay us? That's what is so great about this. You never pay us a cent. We pay you!
What is the Catch?
I know what you are thinking … "Nothing is that easy. This must be a scam."
Okay, you got me. You do have the responsibility of getting people to the show. But we know most people involved in good causes like yours are not professional marketing and salespeople.  That is why we provide a detailed step by step guide on what to do and when to do it.
Yeah but printing the flyers and posters cost money. Right! And we provide them for you. We want everything we do to have a professional look and feel. That includes posters, flyers, and advertisements. We design them for you. We print them for you. We give you a generous set when you sign on. If you need more, they are available at a nominal cost.
There is one more thing. We are serious about the goal of raising $1,000,000. That means we are looking for partners who are serious about raising money. But do not think if you live in a small community we are not interested in working with you. We love small communities.
 What is the catch? Here it is. We assume all the risk of production. You have to cash the check.
Find Out if Your Organization Qualifies
What is Going On?
New Magic Academy's Parent Company Square Circle Productions want to give back. Do you need to build a new baseball field? Do you need to replenish the kitchen's pantry? Let us help.   Square Circle Productions monetizes your database of Patrons. We put on an event people want to come and see. You raise money and people actually thank you. There is little to no out of pocket cost to you. We are with you all the way. We provide you with all the materials you need.  Square Circle Productions customizes the events to your school's/church's individual needs.   We put on an awesome show/event and every time.   We provide you with all the marketing materials. You distribute it. We even provide a detailed plan for you to follow. You only have to do hit send on the defined dates. You even set up and provided a custom web page for online/pre-sale tickets.   We will be with you every step of the way, so you don't have to stress.